Flirting is a hassle! We've all been there, that special someone catches our eye and all of a sudden, we're tongue tied. Well hopefully the next time this situation comes around, you'll run into someone with a sense of humor, because this is: 5 Funny Pickup Lines!
10. Homesick
Unless you're expecting for your head to get shoved in the toilet and flushed…you probably should keep scrolling! But look on the bright side, at least your toilet water is clean!
9. The Fandom
You won't be needing Pikachu as your wingman anymore after this pickup line! Who would resist this? Pokemon Fans are practically drooling at your feet now!
8. ….I'll just stick with the couch
What a pickup line! This is guaranteed to get…no one. In fact, it's a little creepy. Especially if you decide to copy Mr.Sloth and whisper it into your crush's ear.
7. And this little piggy screamed wee wee wee
How's this one for the most relatable pickup line? Let's just hope it doesn't hurt as much.
6. The Garbage Man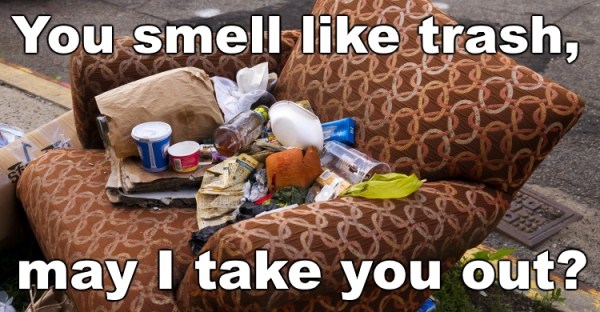 There are two outcomes to this, either you get a laugh and a nod…or perfume/cologne to the face. May the odds forever be in your favor!
5. The Dork
Maybe you're in math class or at a science competition chilling with the cutest nerd in the world! Just lean over and tell them this and you might get yourself a chuckle or two.
Can we also talk about how Siri has some mad flirting skills?
4. Baby got back!
To add to this pickup line, just fake your own asthma attack! Nah, throw an inhaler at her?…Wait no, maybe just not use this one in the first place.
3.  The Farmer
Someone call the pun-police because this is just straight up horrible! I mean, if you want your crush to file a restraining order against you…GO AHEAD!
2. The Eiffel Tower
Who wouldn't listen to a drunk panda? They're the best flirts out there, which is why this pickup line is at #2! Quick Tip: This pickup line should only be use by MALES. Last time I checked, females don't really have a…monument?
 1. What's The Password?
Calling teenagers from everywhere! Talk about the most updated and hilarious pickup line! It's not dirty-minded and is actually kind of cute when you think about it, no doubt about making someone smile with this. You could even hold your phone next to them and point to your wifi signal to add a little icing to the cake 🙂
THESE PICKUP LINES ARE MEANT TO BE TAKEN AS A JOKE, ALONG WITH THIS ENTIRE ARTICLE. IF USED, YOU CANNOT BLAME ME FOR AWKWARD SILENCES, DIRTY STARES, OR A SLAP TO THE FACE. HOWEVER, IF THIS WORKS…I'LL BE TAKING THE CREDIT!